Hello everyone,
I'm comparing the results obtained from a numerical propagation to those obtained from a DSST (mean) propagation. However, I found some results which I'm not sure how to interpret: you can see that mean SMA and eccentricity obtained from DSST are somewhat capturing the behaviour of the osculating elements. However I don't understand what's happening with the inclination.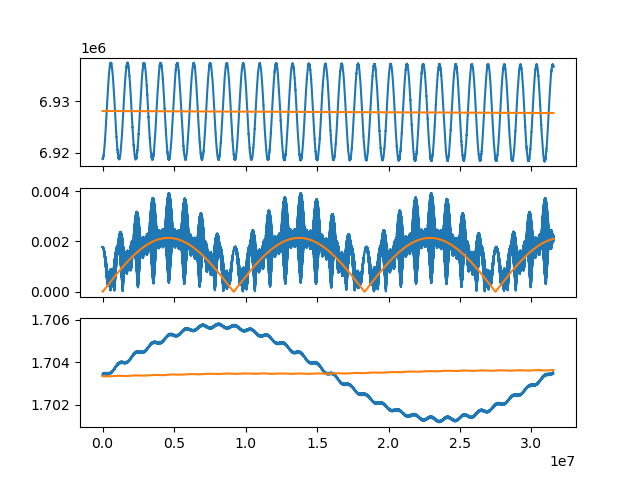 The x-axis is the time expressed in seconds, with a total propagation time of 1 year, and the orbit is a 550km-altitude Sun-Synchronous orbit. I don't know if this can be causing any issue but for DSSTPropagator I'm using the same integrator that I use for NumericalPropagator (with maxStep = 1e+4). Also, the force models used in both propagators are:
HolmesFeatherston(4,4) for numerical, Zonal(4,4) and Tesseral(4,4) for DSST
Sun and Moon third body
Drag
SRP
Do you think that there is something wrong? Also, is it correct that the mean eccentricity is pretty far from the osculating one for the first part of the graph? If I were to propagate for a much shorter period of time (say, 5 days), I would get this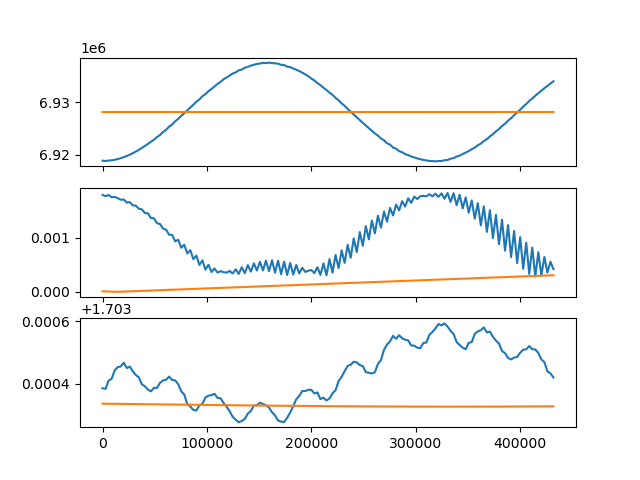 Just by looking at this I would assume that there is something wrong with the eccentricity too. Is this normal?