Some updates on my high fidelity heliocentric propagation study. Good news, for my sample asteroid I'm able to match the Horizons reference ephemeris to within the uncertainty Horizons has on it. Over 100 years that's about 200 km position error and less than 1e-5 km/s velocity error. I have two plots attached to show that. To get that I have to include the top 16 asteroids (beyond that it doesn't make much difference) and general relativity. I also had to implement a sun-centered version of the ICRF frame.
Position Errors: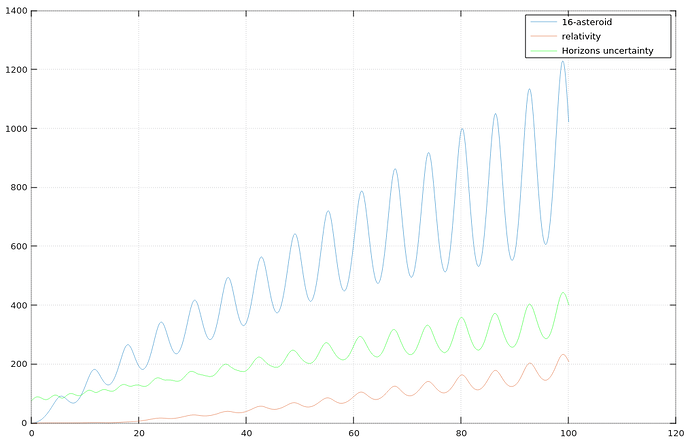 Velocity Errors: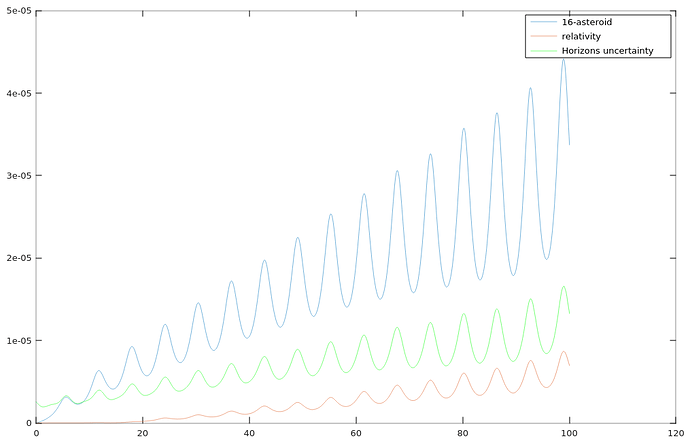 At a minimum I would like to get the sun-centered ICRF frame in the main source code.
I have a JPL Ecliptic frame coded as well but I need to experiment with that more to confirm it's working as well as the sun-centered ICRF. I couldn't get barycentric working well at all. That's for another discussion though.
There is also the question of the reference asteroid ephemeris. For now I have it coded up to read it out of a SQLite database. Do we think our SPICE bsp file readers would be able to read generic SPICE files not just the DE files? If so it may be better to ingest it that way rather than bringing in SQLite dependencies and their exceptions. Assuming the SPICE idea works having it in the main source code is a lot easier of a solution.
There are some light documentation updates needed too around Earth-centric terminology used for certain things (like the Relativity force model) and some clarifying of documentation on changing out DE files.
An interesting thing which may be of note is the time of propagation. When I was running my unit tests the 100 year propagation were taking excessively long, on the order of ten minutes. I was expecting I'd have to run JProfiler to see where we could get some optimization. However when I ran a test case where I was marching through the number of asteroid perturber count I found a pleasant surprise. It seems that it was the initial pass building up the polynomials where we really take the hit. For a "warmed up" case where we have the fully loaded all the planetary ephemeris and started loading asteroid ephemeris the run time drops down to 20 seconds, then starts increasing from there. I ran a subsequent test where I "warmed up" the ephemeris caches and confirmed this. I don't know if there is a more efficient way to do this than to just march through time but I thought it was worth highlighting. it's a problem for one off computations but less so for persistent servers.
Runtime Performance: