Dear Orekit community,
I've read all topics related to my problem but unfortunately no progress. That is why I decided to open the new one.
Here is a task: I consider a particular GEO. For this target, I have the "True" (known precisely from a source different from TLE) position of GEO and TLE. I would like to compare the positions generated by SGP4 with the "True" one. The "True" vector is given in EME2000. Below is part of my code to get PV from TLE in EME2000 frame. The difference is plotted in the attached figure. I think the difference is too large. What did I do wrong?
orekitTle = TLE(tleLine1, tleLine2)
itrf = FramesFactory.getITRF(IERSConventions.IERS_2010, True)
gcrf = FramesFactory.getGCRF()
wgs84Ellipsoid = ReferenceEllipsoid.getWgs84(itrf)
nadirPointing = NadirPointing(gcrf, wgs84Ellipsoid)
sgp4Propagator = SGP4(orekitTle, nadirPointing, float(1700)) # 1700 kg.
tleInitialState = sgp4Propagator.getInitialState()
tleEpoch = tleInitialState.getDate()
date_current = tleEpoch
while date_current.compareTo(endDate) <= 0:
datetime_current = absolutedate_to_datetime(date_current)
PV_tle = sgp4Propagator.getPVCoordinates(date_current, FramesFactory.getEME2000())
date_current = date_current.shiftedBy(step_time)
Then I simply plot the difference PV_tle - PV_true
I should mention that TLE Epoch is three days earlier than the Epoch for the "True" position.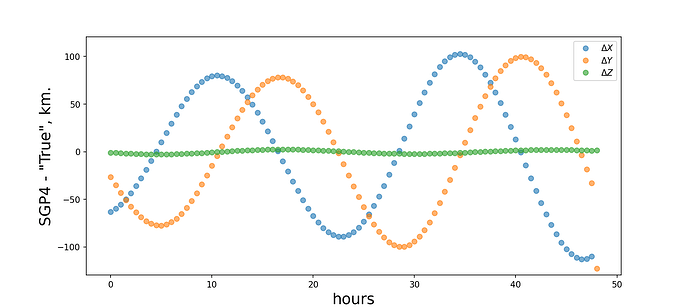 Any feedback will be very helpful!
Thank you!