Hi Orekit community,
I create this post in order to talk about the package organization in Orekit. As the next version of Orekit should probably be the 10.0 it could be interesting to open a discussion on this subject.
I will illustrate my remarks with an example. Current architecture of org.orekit.models.earth package is:
A sub-package .tessellation for models that allow the tessellation and sampling of zones.

A sub-package .displacement for models that allow computing reference points displacements on Earth surface.

A set of models with different purposes : tropospheric models, ionospheric models, global weather models, magnetic field models, geoid model, etc.
For the last point, I think that it could be interesting to add new sub-packages to organize this models. For instance, create models.earth.ionosphere; models.earth.troposphere; models.earth.geomagnetic etc sub-packages. Another idea can be to move the forces.drag.atmosphere sub-package into the model package and add .ionosphere and .troposphere sub-packages. I attached a rapid and non academic image of how the architecture can be.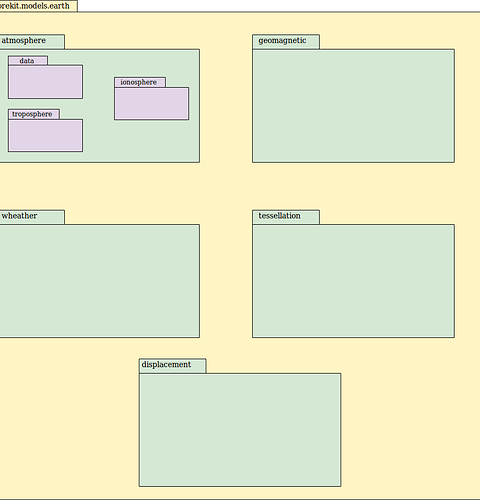 What is your opinion about that ? Have you any idea of what kind of organization can improve the package architecture of Orekit ?
Your opinion is welcome.
Kind regards,
Bryan