Hello everyone,
I am trying to utilize optical observation data with IOD methods that Orekit already have. Consider I have the following observational data: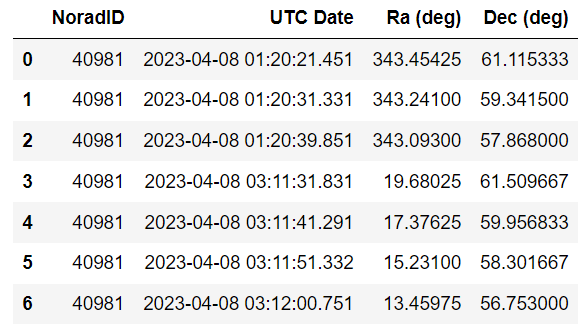 Using IodLaplace or Gauss Method for the first 3 observations give me acceptable results for inclination and RAAN, depending on the orbit. However I have multiple passes as seen on the data table above.
Normally, I would expect that multiple passes to constrain the orbit so that we can increase the accuracy of other orbital elements. At this point, 2 seperate IOD methods to different passes can be applied (total of 6 data is used), then the mean of the orbital elements could be obtained. OR we could just use 3 observational data from a single pass for IOD, and the remaining data can be fed to batch least square method.
I am not sure which one performs well, and gives me better results.
This one's a bit of an Orbital Mechanics question but I though people here on forum might know the answer or have an interpretation to this.
Thanks in advance!
Baris