Hello everyone,
I'm trying to include maneuvers in my DSSTPropagator. By looking on the forum I found this and this old topics, both mentioning the AbstractGaussianContribution class. I think I managed to successfully implement the equivalent Python class PythonAbstractGaussianContribution. Indeed, the code runs, however, I think that the results I obtain are wrong. In particular, I have doubts about the getLLimits method. From what I understand, this method is supposed to return the true longitude interval over which the force has to be averaged, so I imagine this interval should coincide with the interval over which the maneuver actually takes place.
As a first attempt, to compute these boundaries, I'm using a numerical propagator that propagates only the manevuer. These values are then passed to the DSSTManeuver during construction as DSSTConstantThrustManeuver(maneuver, Lv1, Lv2) and retrieved by the getLLimits method. This image shows the results (SMA, ecc and inc) obtained from a numerical propagator and the DSST one: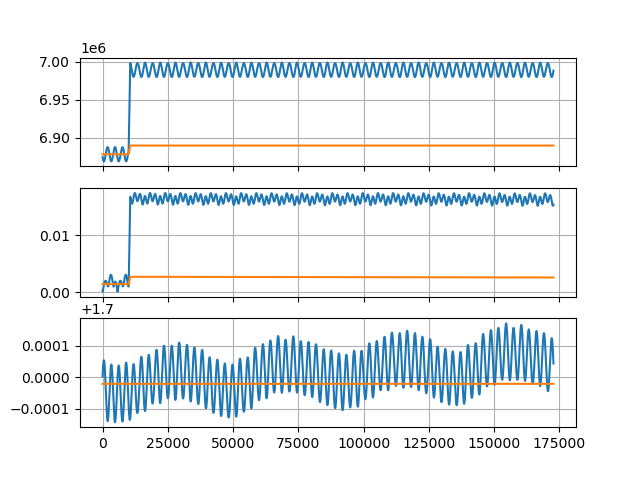 As you can see, the maneuver is indeed accounted for, but the results are in my opinion very wrong.
I also tried setting Lv2 = Lv1 + 2*pi, and the results are again really weird:

As you can see, now the mean SMA is correct, but there is no effect on the eccentricity.
Any suggestions?