Hello orekit team,
I have issue with my propagotor and I want to make it more precise.
Curently I used DP method for the integrator and the force model I added are :
NewtonianAttraction centralAttraction = new NewtonianAttraction(ConstantsODTS.mu);
n=2;
m=2;
NormalizedSphericalHarmonicsProvider harmonicsProvider = GravityFieldFactory.getNormalizedProvider(n, m);
HolmesFeatherstoneAttractionModel nonCentralPerturbation = new HolmesFeatherstoneAttractionModel(ConstantsODTS.ecef, harmonicsProvider);
ThirdBodyAttraction sunPerturbation = new ThirdBodyAttraction(CelestialBodyFactory.getSun());
ThirdBodyAttraction moonPerturbation = new ThirdBodyAttraction(CelestialBodyFactory.getMoon());
RadiationSensitive spacecraft = new IsotropicRadiationSingleCoefficient(25, 1,8);
SolarRadiationPressure SRP = new SolarRadiationPressure(CelestialBodyFactory.getSun(),6378136.46, spacecraft );
My propagotor diverge really quickly after a certain time of propagationas it can be seen in the figure below.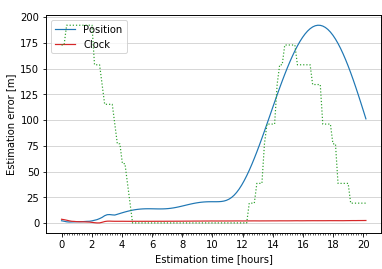 I noticed that not adding the SRP model does not change really this error. So I think the problem comes from here.
Do you have any hints ?
Thank you in advance,
Luca